The indicators view allows you to manage categories, time markers and pins. Although you can maintain this data in Dime.Scheduler, please be aware that the back office application is the master and as such, updates from the back office application might (and will) override the changes you make.
As most back office applications will seed these values but not the associated colors, it is advised to manage only the colors in Dime.Scheduler.
Creating or removing indicators​
Each grid in this view has the same buttons. At free will an administrator can add or remove its categories, time markers or pins.
Creating an indicator​
As soon as you hit the add button, a new row will be added to the grid:
The name field is required, and until you have given the indicator a name, the save button will be disabled and no new record will be created in the database.
Deleting indicators​
When hitting the delete button, all selected items will be removed. This may be only one but there could be more. By using the combination of CTRL + Select and/or SHIFT + Select, the administrator can quickly remove the indicators.
Note: indicators who are being used by jobs, tasks and appointments cannot be removed. The references to the indicator must be removed first in order to remove the indicator itself.
Setting the indicator's color​
To change the color, double-click on a row to enter into edit mode.
Next, click on the color cell to open the color selection window.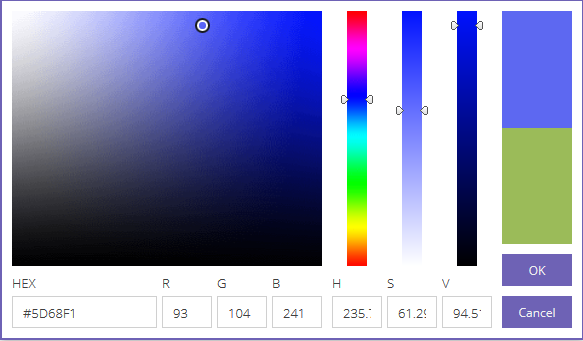 You can use the color area and the sliders to select a color. Or alternatively, you can insert the hex or the RGBA value.
Read more​