Priorities
Together with our resellers and customers, we continuously fine tune our objectives to guarantee the relevance and impact of Dime.Scheduler. The top priorities for Dime.Scheduler include, but are not limited to, the following topics: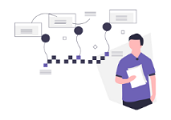 Automation and optimization
With the help of some artificial intelligence, an optimized planning for your resources and tasks is within reach. Let the algorithms do their job and generate a schedule for optimal productivity given the constraints (such as skills, region, traffic, etc.) at hand.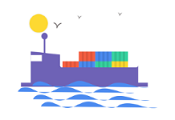 A concept as simple as appointment containers will prove to be essential to many of the advanced features that are coming down the pike. Containers essentially allow you to bundle appointments in groups and treat such groups as a single entity in the planning board, unlocking the automation of complex business processes.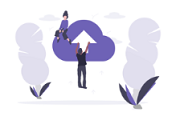 Dime.Scheduler as a Service
The final stop in the journey to the cloud is a multi-tenant, publicly hosted version of Dime.Scheduler. You will be able to launch and connect to Business Central in just a few minutes. The heavy lifting will be done by us for you so you can focus your efforts to what really matters to your organization.



Thanks to its flexible architecture, connectors can be added effortlessly. A connector is basically a link between Dime.Scheduler and another system. Especially the integration with Office 365 with products such as Exchange, Teams, Bookings and Planner can be developed without much fuss. You name it, we can make a connector for it.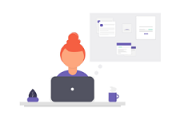 The Gantt chart harbors many more use cases and can serve many more industries. By further deepening the features and the integration of the project management capabilities in Dime.Scheduler, this powerful project management tool will supercharge your customer's business.



More integrated capabilities in the map will allow planners to take geoplanning to the next level. Features such as drag and drop of routes, traffic time calculation, free address input, etc. will open up a world of possibilities for companies in the logistics industry and for any company that has resources on the road.


In addition, two more items are currently being designed and developed:
Online training course
Mobile application
Finally, we are continuously on the lookout for the optimal balance between power, flexibility and ease of use. We will make more investments in simplifying the use of Dime.Scheduler, as well as enhancements to the installation and configuration procedures. Furthermore, we will make attempts to lower the learning curve with improved training contents, documentation, and lots of in-application help elements.
This year's release forecast
Here is the list of releases that we intend to publish this year. Make sure to check out all the release announcements in the news section, or take a look at the release history.
Dime.Scheduler 2021.1.0
🚀 Q1 2021
All-in-one installer
Simpler authentication system for plugins
Enhanced features for the BC connector
Configure planning board tooltip
Use query string parameters to alter the behavior of the planning view
Shortcut keys for drag and drop
Added support for 10+ languages
Dime.Scheduler 2021.2.0
🚀 Q2 2021
Bidirectional Exchange connector
Add diagnostics tool to the installer
Add resource pin to map and route on selection
Fixed task dates
Replace MSMQ with SQL as communication mechanism with plugins
Dime.Scheduler 2021.3.0
🚀 Q2 2021
Add a capacity mode to spread the load of an appointment evenly across the planned days of the appointments
Apply resource filter from appointment in planning board
Today filter for date columns in grids
Incorporate budgets in the project planning
Dime.Scheduler 2022.1.0
🚀 Q1 2022
Appointment containers
More project planning cabilities in the Microsoft Dynamics 365 Business Central connector
Dime.Scheduler X Connector: link any system to Dime.Scheduler using an easy to use software development kit (SDK).
PowerApps connector
Dime.Scheduler 2022.2.0
🚀 Q2 2022
Furthermore, while they are not expected to be shipped in a release this year, the following items are in the pipeline:
Stand-alone connector
Containerize cluster Dime.Scheduler in Docker and/or Kubernetes
Planning optimization and automation module with built-in integration for Dime.Scheduler.
Whenever possible, we will distribute alpha releases for internal use and for experimental purposes.
Give shape to the roadmap!
We appreciate your input and we would love to get your input. Whatever suggestions you might have, we want to hear them. 👉 Get involved and have an impact 📈 on the future of Dime.Scheduler. While we have a pretty good idea where to go next with the product, we want you to have a say as well and have a decisive vote.
Get in touch with us through our support system or send us an e-mail 📧 to hello@dimescheduler.com.
We look forward to working with you!
Disclaimer
The contents of this document are not legally binding. Although we have every intention of executing this plan, it is not a commitment and the roadmap may change without any prior notice.
---
Last revision on Thursday November 4, 2021.