Dime.Scheduler 2022.2.0 is finally here and includes the brand-new mobile app!
What's new​
Mobile app​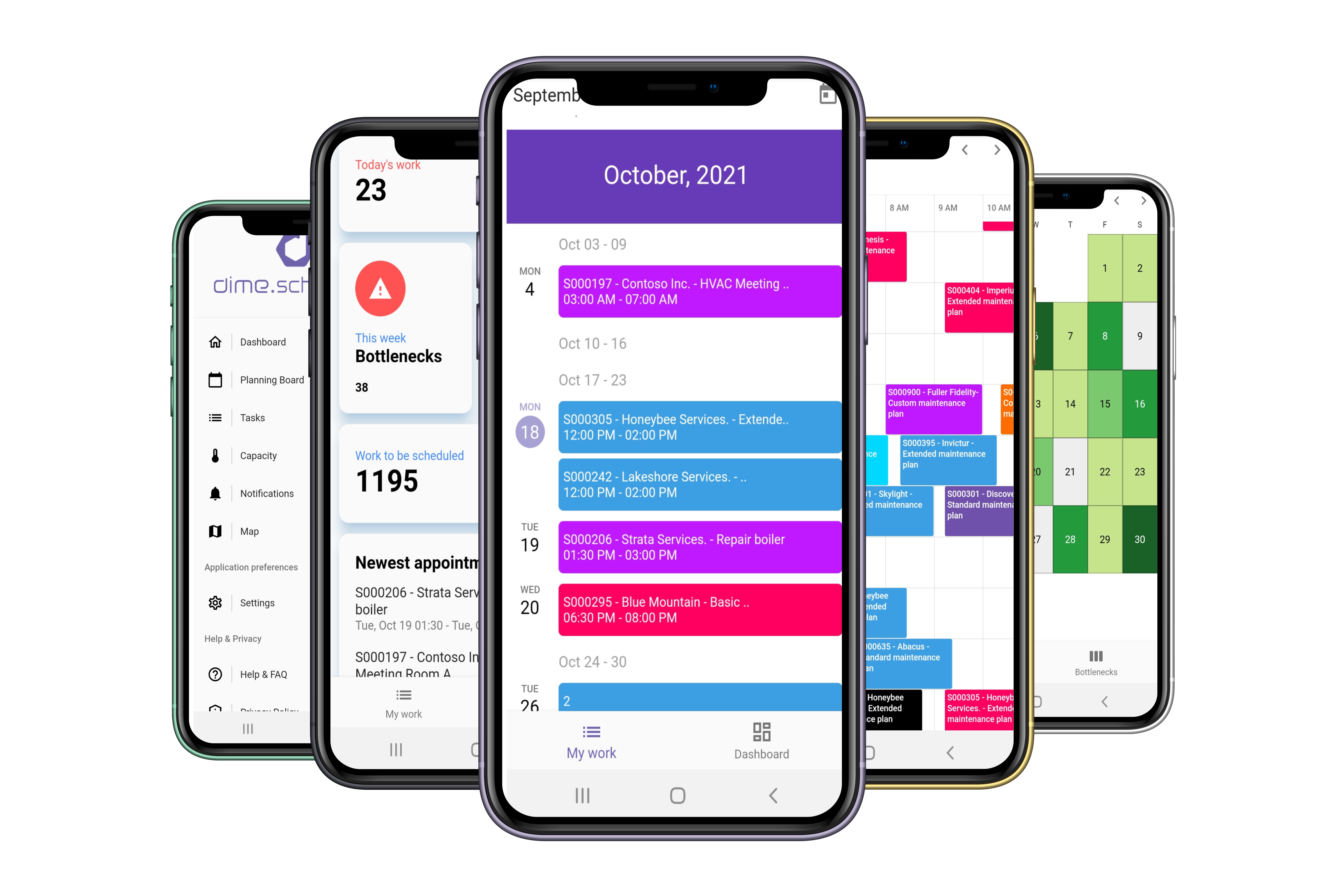 During Directions EMEA 2021 in Milan, we announced that we started proceedings of a mobile application for Dime.Scheduler. In contrast to the main application, which caters to the planner, the mobile app primarily targets the resources that the planner manages in Dime.Scheduler.
The app allows you to:
Consult your schedule
Check the schedule of your team members
Get directions to the location of the next job
Share your location automatically with the dispatcher
And more!
👉 To learn all about the mobile app, continue here!
Check out the announcement video here:
Exchange connector rule engine​
Due to popular demand, we have developed a rules engine that allows you to determine which appointments should be sent to Exchange (and back).
👉 Continue reading here to learn how to use and configure the rule engine.
Docs​
We're so proud that partners celebrate our documentation time and time again. To keep supporting the growth and scope of the product, we've made a number of changes to the documentation:
We completely redesigned the welcoming experience. If you go to the getting started page, you'll find that we've trimmed down the content and point the reader to the right chapter in the documentation.
The plugins page has been rebuilt from scratch and makes it easy to navigate to the plugin (or integration) of interest.
Furthermore, the setup docs of the plugins are now contained inside the documentation of the plugins.
The documentation for Business Central has been consolidated and simplified.
The links have been simplified and shortened.
What's more​
Trakm8 connector to send the coordinates of tracking devices directly to Dime.Scheduler
The connector for Business Central now supports BC20 and BC21.
Performance improvements
Minor UX enhancements
Improvements and bug fixes​
In addition to the traditional performance and stability improvements, the following bugs have been fixed:
Export to PDF with SSL-backed Dime.Scheduler websites
Icons in PDF export
Pasting appointments in a grouped planning board
Loss of real-time connection on inactive Chromium browsers/tabs
👉 Head over to the partner zone to download Dime.Scheduler 2022.2.0 💾!
Upgrade guide​
To upgrade to Dime.Scheduler 2022.2.0, follow the upgrade guide diligently before deploying the new version.
What's next​
There are many exciting new features coming up. We are extremely excited to announce preview versions of:
Power Platform connector
Webhook connector
Zapier connector
SDKs and CLIs
Dime.Scheduler Connect
👉 We have updated our roadmap with an up to date schedule of what's coming up, so go check it out!
Join our webinar on the mobile app for Dime.Scheduler (and more)​
On December 1 at 16:00 CET, we are hosting a webinar that shows how to get started with the mobile app. Secure your seat by registering here! 👈