Dime.Scheduler 2022.1.0 is available now and comes with a feature many have been waiting for: appointment containers!
What's new​
Appointment containers​
Appointment containers are a game-changer. Grouping tasks and planning such groups as a whole opens up a world of possibilities for the modern organization. Rather than having to manage related appointments one by one, the planner now has the tools to manage logical sets of appointments and treat such a group as a single entity.
It is a simple yet powerful concept that will be the foundation for more advanced features in future releases. Read more about appointment containers here. Or sign up for the 📡 webinar here.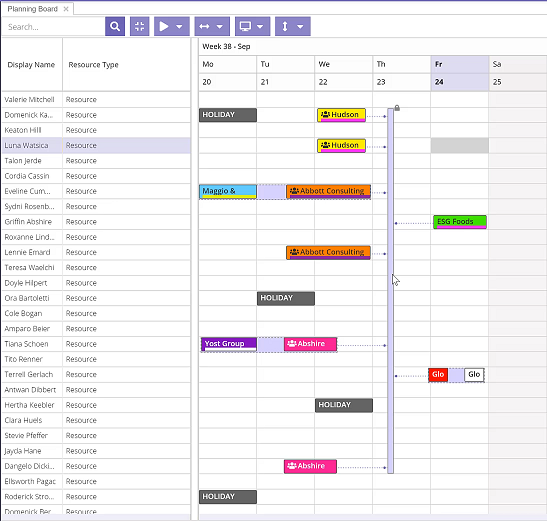 Connector for Microsoft Dynamics 365 Business Central​
Support for BC19 (BC20 will be available as of April 1st)
Additional "OnAfter" events for send opreations
Remove "Send all" buttons on order list pages
Support non-integer task numbers in the Gantt chart
Store planning date in the job planning link table
Send job task description with job planning line
Send production order line number with production order task
Send large notifications (more than 1024 characters)
Support decimal values in resource capacity
Support infinite parameter on job task level
Bypass regional setting on duration conversion
What's more​
Apply resource filters in appointment editor
Date navigation in agenda view
Copy/cut and paste multiple appointments at once
Rebase projects in Gantt chart
Collapse and expand rows in the planning board
Schedule remaining time for tasks
Toggle the clock tooltip visibility
Messages API
Improvements and bug fixes​
In addition to the traditional performance and stability improvements, the following bugs have been fixed:
Appointments temporary disappear after cancelled drag operation
SQL load balancing
Filter value sorting in the resource filter component
Search for resources in the Gantt chart editor
Drag and drop permissions for indicators
Special paste across pages
Grouped planning board alignment on browser zoom
Rendering of the docking panels on small screens
Revoke all profiles
Resource is not selected when creating new appointments
👉 Head over to the partner zone to download Dime.Scheduler 2022.1.0 💾!
Upgrade guide​
This is a major update 🚀. To upgrade to Dime.Scheduler 2022.1.0, follow the upgrade guide diligently before deploying the new version.
Webinar​
On April 7 at 16:00 CEST, we are hosting a demo-packed webinar 📡 that shows appointment containers, among many other features, in great detail so you're up to date on all the latest features in Dime.Scheduler, and what's next.
Secure your seat by registering here! 👈